I kept my hands busy this summer! I found myself staying up late knitting and watching reruns on tv after the kids went to bed most nights. Plus, the drives back & forth to visit my family or going to Wichita gave me nice knitting time, too. Here's my finished pile for the summer.
First up was an
Elizabeth Tunic
and matching shorties set for a church friend's new daughter. What fun it is to knit tiny pieces! I used cotton yarn for the first time,
Bernat CottonTots Solid
. The trim is Country Red and the body is Dollhouse Ombre.
I gathered up scrap yarn in boyish colors and knit a pair of wool
Sheepy Pants
shorties for a cloth-diapering friend's one year old. Here's
why we like wool with cloth diapers
.
A pretty
Oriental Lily
dress was next for my friend's daughter's first birthday. I used a superwash wool,
Cascade 220 Paints
, for it. I LOVE this pattern! I've got to make another one and this yarn was so nice to work with, too. I didn't take very good photos of it before I mailed it, but luckily my friend sent beautiful action shots! I also whipped up a little toy fishie out of the leftover yarn.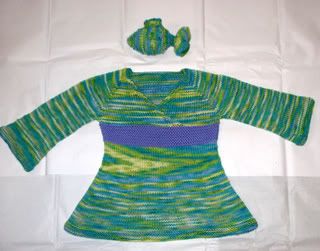 I started an
Elvira dress
for Eleanor, using fingering weight hand-dyed wool by a local dyer. I lost my steam on it, though. and set it aside for a bit. It's a pretty start, though.
I made a
Ruffled Summer sweater
for Eleanor as a quick break project in between working on the Elvira dress. I knit it a size up to last till next year. This is made with
Plymouyh Yarn Encore Worsted
.
And, lastly, I made a pair of Sheepy Pants longies for Eleanor to wear this fall. These were knit in the
Baba Sienna colorway
on wool Peace Fleece yarn.
I feel pretty good about what I got accomplished over the summer, especially since I didn't expect to get more than a one dress for Ella done. I was able to start going to Knit Nite at my local yarn store on most Tuesday evenings while Doug stayed home with the kids and I think that really helped keep me motivated. It was so nice to get out and hang out with other women in a relaxing atmosphere.
For this fall/winter, I have a few things I hope to make (roughly in this order):
1.
Children's poncho #243
for Ella with this fabulous yarn from
Mosiac Moon
. Have the yarn and the pattern is in route to me.
2. Make the
Hudson Hat
for my 31 for 21 comments winner. :)
3. Possibly finish the Elvira dress.
4. Knit a dress for a friend's daughter's 2nd birthday. Already have the yarn and pattern, but it's a surprise. Birthday is in December.
5. Newborn or small dress or longies for a friend's baby. Have the yarn, haven't decided on a pattern yet.
5. Knit the boys something for Christmas. Either a Hudson Hat or this
vest #256
.
6. Knit some
doll
clothes
for
Ella's dolls
as her Christmas gift. I'll use up yarn I have for that.
7. Not likely to happen, but would like to try knitting socks after I get thru this list. :)